A critical component of all great project work, threading its way through the authentic year-long process is field experience. Students must observe first hand the work of their professional counterparts in the real world. Then, they will know that what they are doing is significant, that what they are doing can and will make a difference, and that what they are doing extends beyond the walls of their school.
Last week, Round House Theatre in Bethesda, Maryland graciously opened its doors to us, inviting us to take a closer look behind the scenes. Our generous hostess, Associate Producer Danisha Crosby, led us on a back stage tour, showed us how the unique revolving set functioned and gave us insight into the intricate, magical workings of theater that inspire and enlighten us from the audience.
The kids were truly in awe.
"Wow, today topped everything. I went to Round House Theatre."
Angel

"When Danisha popped the floor out, my head snapped to attention like a horse at a race."
Juliana
"I was amazed by how the stage moved in a circle."
Samantha
"I felt like the opera folder in my brain blew up! I had so much useful information."
Emmah
"This isn't any ordinary theater, it's the Round House Theatre."
Destiny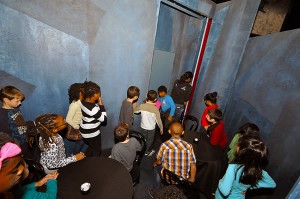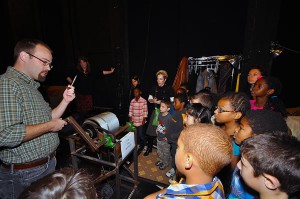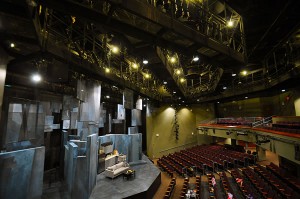 After returning from Round House, as part of our study about area in mathematics, students created their own stage designs and determined the cumulative area of their connected rectangular stage sections.