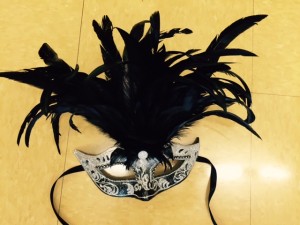 What is important to us? About what do we care profoundly? The mask has served us well in digging deeply to uncover and discover our fears, our hopes and our vision for ourselves in the future. What am I hiding behind the mask? What am I hiding from? When do I put on my mask? When and for whom do I take it off? What does my mask represent? In responding to these questions, company members were able to identify and analyze individual behaviors and habits. Our actions and behaviors are motivated by external and internal ideas and perceptions that drive us to do the things we do. When we are conscious of our motivation for acting, we can then think about altering those behaviors we know are counterproductive to our well-being and to the well-being of others.
Company members generated a collective list of things that hold them back and keep them from showing their true selves.
fear
loneliness
silliness
shyness
embarrassment
failure
insecurity
anger
immaturity
They agreed that fear seemed to be the overarching umbrella from which all thoughts, feelings and ideas originated. So we took a closer look at fear. What does it keep us from doing? How does it hold us back? What do we see on the other side of fear? If fear were eliminated, what would be the vision on the other side? Below is a list from our spontaneous brainstorm.
I see . . .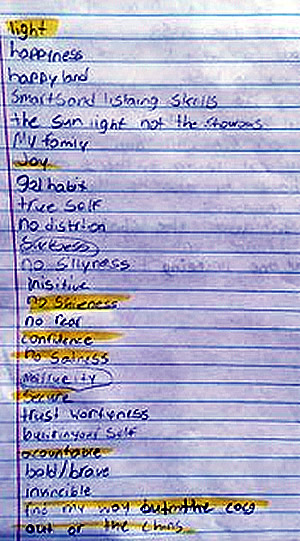 no fear
boldness
belief in self
good habits
sunlight, not the shadow
good listening skills
no distractions
no disappointment
no misunderstanding
no guilt
no remorse
joy
my happy place
courage
no shyness
confidence
no sadness
security
accountability
maturity
honesty
invincibility
understanding
I say . . .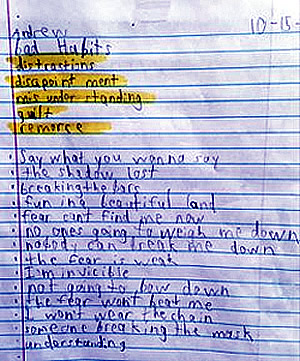 I'm not letting others get on top of my happiness.
I'm taking off the mask.
I will not wear the chains.
Fear can't find me.
I'm not going to bow down to the mighty.
I'm invincible.
Nobody can take me down.
Fear is weak.
I'm breaking the bars.
I'll find my way out of the cage.
Our conversations from all that was shared led us to the powerful theme  . . . BARRIERS.